Celebrate Georgia Restaurant Week with Concentrics!
The second annual Georgia Restaurant Week, brought to you by the Georgia Restaurant Association and the Georgia Department of Economic Development (GDEcd), aims to highlight the various dining options that are available to consumers throughout Georgia.

Please enjoy a three-course $35 dinner menu for the event at our restaurants ONE. midtown kitchen, TWO urban licks, TAP, The Brasserie & Neighborhood Café at PARISH, Lobby Bar and Bistro, and ROOM at Twelve

When: Monday, July 18- Sunday, July 24
Price: $35 per person excluding tax & gratuity

For menus and details, please visit www.garestaurants.org/georgia-restaurant-week

---
Mother`s Day at ROOM!
Cheers to Mom this Mother's Day!

Join us at Room at Twelve for a special Mother's Day Brunch from 11 am – 3 pm, where Mom will receive a complimentary mimosa! If brunch isn't for you, the chef has dinner specials to add to our a la carte menu. Dinner will be served from 5 pm – 10 pm. To make your reservations, call 404.418.1250 or visit roomattwelve.com.

ROOM at Twelve | 400 W Peachtree Street, Atlanta, Ga 30308

---
Enjoy Easter at ROOM!
.
---
Easter at ROOM!
Please join us at ROOM for Easter Brunch! We will be featuring a special brunch buffet, and a la carte entrée specials! Brunch will be served from 10:30 a.m. – 2:30 p.m. We will see you there! For reservations, call 404.418.1250.
---
Enjoy Valentine`s Day at ROOM!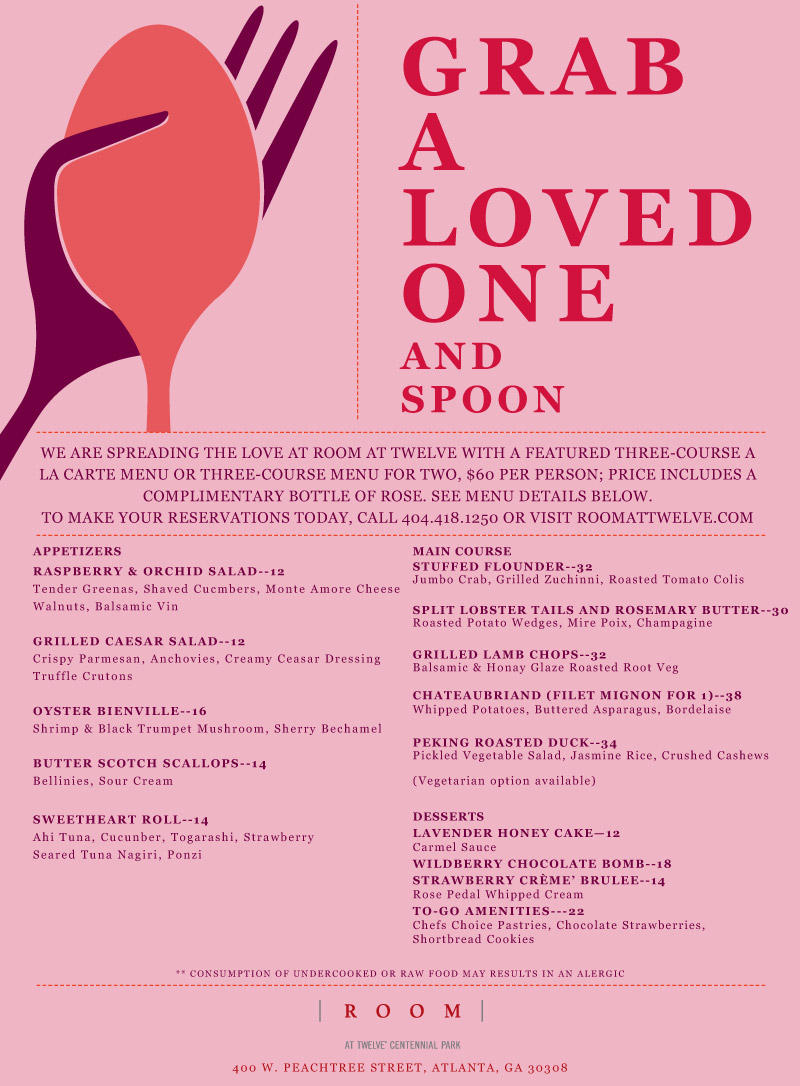 .
---
Announcing Superbowl Hours
Room at Twelve will maintain regular business hours on Sunday, February 7.
---
Giving Back While Drinking Beer? Sounds Good to Us!
For the month of January, Concentrics Restaurants will be featuring Sweetwater Brewery's limited release IPA brew, Second Helping (http://sweetwaterbrew.com/brews/second-helping-ipa/).

Enjoy a pint (or two!) of this featured brew today at ONE. midtown kitchen, TWO Urban Licks, TAP, Parish, The Spence, Lobby Bar and Bistro, and Room at Twelve!

A portion of every pint sold benefits The Giving Kitchen (http://thegivingkitchen.org/), a non-profit charity that provides emergency assistance grants to restaurant workers in metro Atlanta facing unanticipated hardship.

For more information, visit concentricsrestaurants.com

---
Celebrate the New Year with us at ROOM!
Welcome 2016 in style at ROOM at Twelve! Enjoy our featured three-course New Year's Eve menu and cap off the night with party favors and a complimentary champagne toast at midnight!

$55 per person
(Tax and gratuity are additional.)

First Course:
PORT MASURATED WILD CHERRY & ARUGULA SALAD
Arugula, candied walnuts, baby brie cheese, champagne vinaigrette
or
JUMBO SHRIMP COCKTAIL
Snow crab ceviche style salad, tequila cocktail sauce, lime wedges, lavash bread
or
SUSHI TWO WAYS
Soft shell crab spider sushi roll, rainbow roll

Second Course:
GRILLED FILET OF BEEF & SEARED SUPER LUMP CRAB CAKE
Sardelaise whipped potatoes with truffle & aged parmesan, grilled asparagus, wild current demi glaze
or
SEARED LAMB T-BONE CHOPS
Sautéed Brussels sprouts & crispy pancetta, buttered carrot puree, sherry jus
or
SOY & HONEY SEARED SALMON
Baby bok choy & rainbow carrots, shiitake mushrooms, pepper honey glaze
or
BACON WRAPPED SEA SCALLOPS
Braised Swiss chard, crispy potato hay, yellow pepper emulsion

Third Course:
CARAMEL & APPLE TART
Cinnamon sorbet, caramel sauce
or
BUTTERSCOTCH TIRAMISU
Butterscotch reduction, shaved white chocolate
or
CHOCOLATE & RASPBERRY CAKE
Vanilla ice cream, raspberry sauce

To make your reservations today, call 404.418.1250 or visit roomattwelve.com.

ROOM at TWELVE CENTENNIAL PARK 400 West Peachtree Street, NW Atlanta, GA 30308

---
Celebrate Christmas Day with Brunch!
Join us at ROOM this Christmas Day and delight in our featured 3 course Christmas Day brunch menu. See menu details below. These offerings are sure to satisfy anyone's holiday food cravings!

$45 for adults
$19.50 for children 5-12
Children under 5 are free
(Tax and gratuity are additional)
11am-3pm | For reservations, please call us at (404) 418-1250.

1st
GINGER BUTTERNUT SQUASH SOUP
Candied carrots

CRISPY BRUSSEL SPROUTS & CRAB APPLES
Cinnamon currant white balsamic reduction & candied smoked bacon

JUMBO FRUIT CAKE MUFFIN
Strawberry ginger cracked pepper jam, sour cream fresh berries

HOUSE SMOKED SALMON
Fig pudding dip, toasted bagel points, red onion marmalade

MISTLETOE SALAD
Arugula greens, rum cranberries, brûlée brie cheese, almond brittle, lemon thyme vinaigrette

2nd
SANTA'S HAM STEAK
Butter rum glazed roasted root vegetable mélange, red bliss potatoes

GINGERBREAD PANCAKE
Thick cut bacon, eggnog maple syrup, winter cranberries

CHRISTMAS BENEDICT
Poached farm egg, grilled Canadian bacon, asparagus, roasted tomato, hollandaise

PETITE SEARED FILET
Roasted garlic smashed potatoes, grilled asparagus, blackberry demi-glace

SPINACH CRUSTED SCOTTISH SALMON
Julienne red pepper, green bean sauté, cauliflower purée

SUSHI BRUNCH
Choice of spicy tuna, snow crab California, spicy salmon

3rd
CHEF'S CHRISTMAS DESSERT DISPLAY

400 W. Peachtree Street, NW Atlanta, GA 30308

---
Spend Thanksgiving With Us!
Whether gathering with your family and friends from afar or just around the corner, Room at Twelve invites you to spend Thanksgiving with us. Room will be serving a spectacular Thanksgiving dinner featuring delicious holiday specials from 11:30 a.m. to 6 p.m., see menu details below!

$45 per person
Children 12 and under $19.50 per person
Children 5 and under are complimentary

Family Style Menu includes:
Mixed Green Salad
Roasted Pumpkin, Candied Walnuts, Red Onion, Balsamic Vinaigrette
Garlic Butter Green Beans, Sautéed Onion, Toasted Pumpkin Seed
Charred Honey Ginger Rainbow Carrots
Sour Cream Red Skinned Potatoes
Whipped Sweet Potato with Granola & Toasted Marshmallow
Mac & Cheese
Southern Style Stuffing with Sundried Cranberry & Turkey Gravy
Sage & Thyme Roasted Turkey
Assorted Breads, Rolls & Biscuits, Cinnamon Butter
Family Style Desserts
Pineapple Upside Down Bread Pudding
Apple Almond Tarts
Pumpkin & Sweet Potato Pie
Fresh Whipped Cream & Orange Spiced Mixed Berries

To make a reservation, call 404.961.7370.

---
Concentrics` Summer of Chances
It's simple…take a chance and sign up for our email database to see what offer you get and where! Spread the word; share with your friends so they can take a chance and get in on our summer fun too!

Click the link below to get started!

#summerofchances
Summer of Chances Sign Up: http://www.concentricsrestaurants.com/p/summer-of-chance.html
---
Downtown Steak Week at ROOM!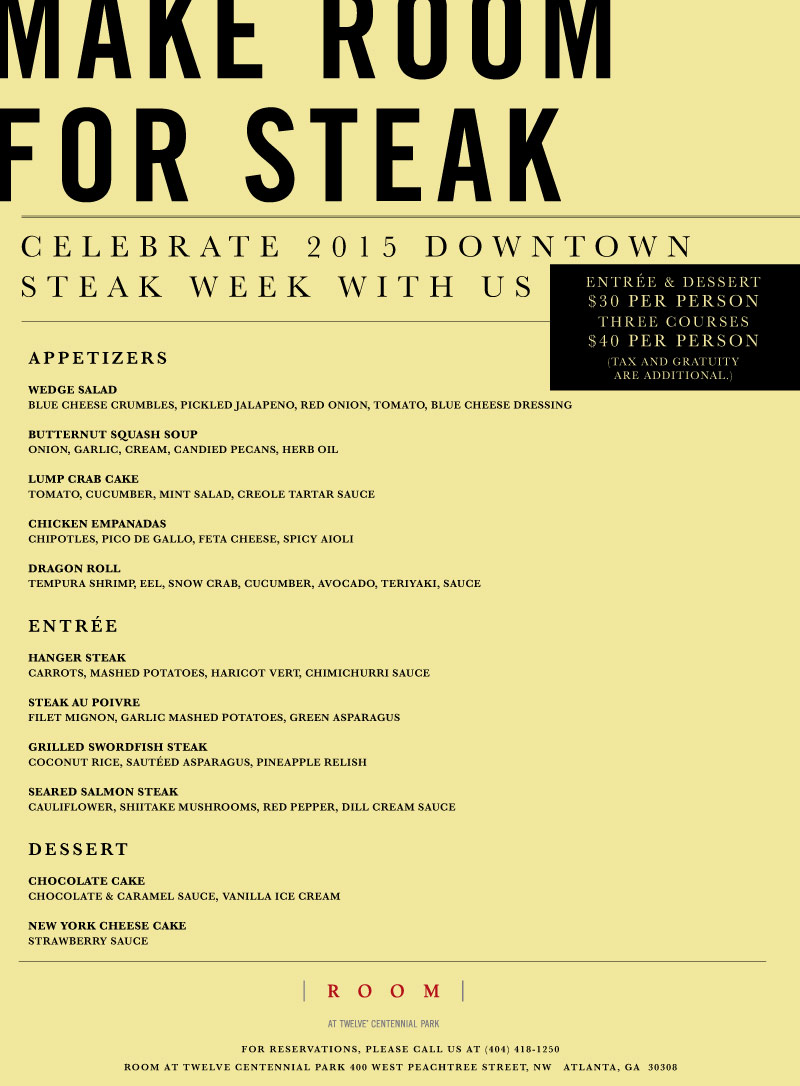 See poster for details
---
Celebrate Mom at ROOM!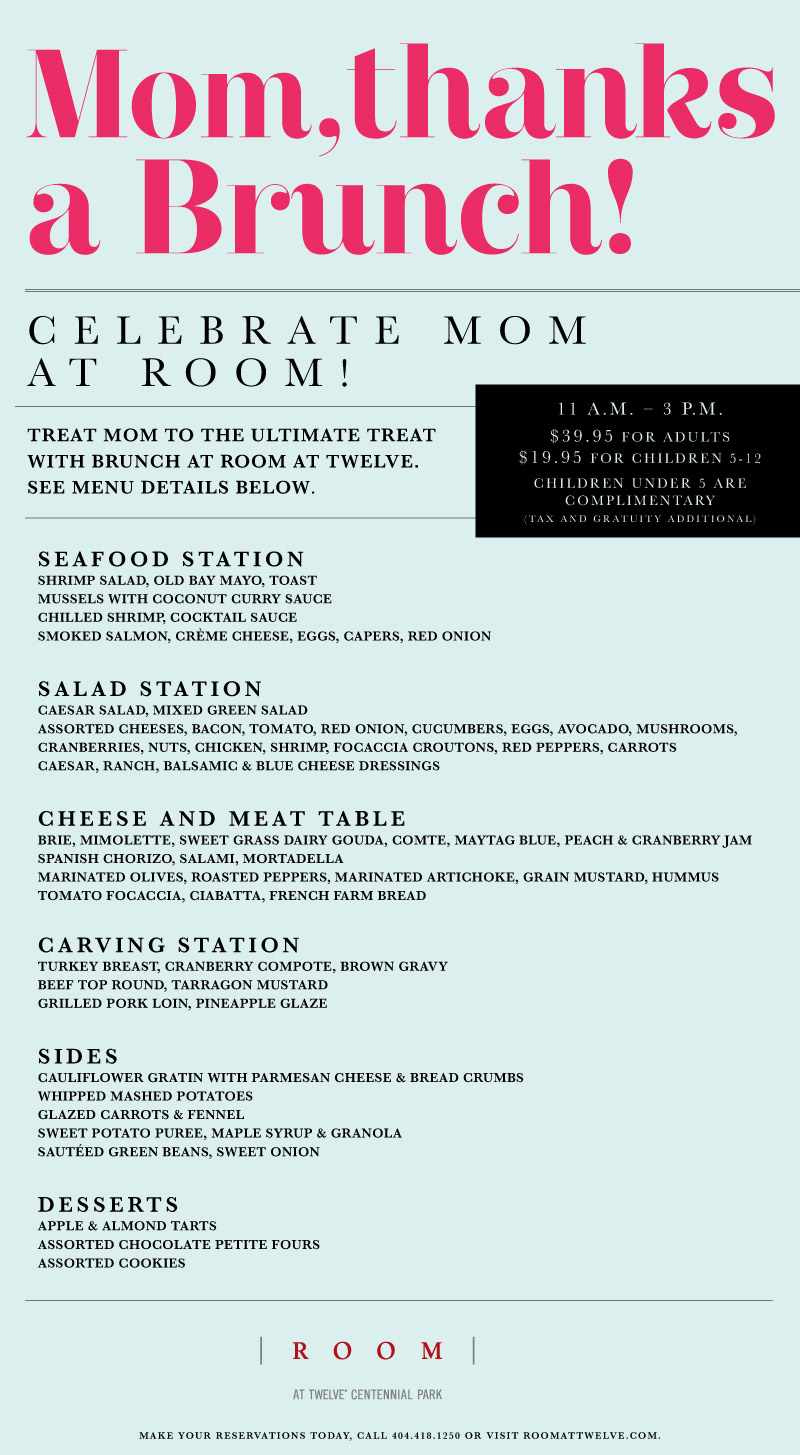 Mother`s Day at ROOM
---
Start Your Day Right at ROOM!
We cordially invite you to start your day off right with breakfast at ROOM! Enjoy our featured breakfast menu offerings and be sure to ask for your loyalty card that gives you complimentary coffee with any entrée purchase. Enjoy 10 meals and the next is on us!

To view our menu selections and to make reservations today, visit roomattwelve.com or call 404.518.1250.

Offer is valid for dine-in customers only and cannot be combined with any other offer or promotion.

---
Rise and Shine with Us!
Now offering to go breakfast sandwiches for under $10 in under 10 minutes.

Choose One:
Fried Egg with Cheddar
Breakfast Burrito

Place your order at the sushi counter located at ROOM. Available every Monday – Friday from 6:30 - 11 a.m.

---
Brunch with Us
Enjoy bottomless mimosas for just $15 when you purchase any brunch entrée of $10 or more.
---